Bray Topsoil & Gravel works hand in hand with a number of Landscaping companies who need our topsoil & gravel and love our service. Over the years we have found that running a profitable landscaping business may seem simple enough but the formula is much more complicated than it appears. The development of revenues and how you control of expenses are what keeps a landscaping business thriving year after year. You also must constantly keep on top of the industry and its trends to best serve your customers. If you are thinking of having your own landscaping business here are a few tips that leading business experts and established landscapers agree you will need to have a profitable business…
A Business Plan
One of the critical elements in running any profitable business is having a business plan. You can start with something as simple as a single page and let the plan evolve as the business does. Developing a business plan will probably be one of the hardest things you have to do. A business plan provides the owner with a written business strategy to guide him. Another reason to have a business plan is that you will need it before a bank will approve a business loan or line of credit, which you may need to grow the business. Try and think of everything that will affect your business of landscaping. For instance weather patterns, equipment, climate, inventory, and personnel. If you have all of this documented before a problem arises you will at lest have a base line strategy to deal with the problem.
Research the General Geographic Area
You will probably be working in one geographic area. You will need to educate yourself on the actual terrain where you will be working. The amount of rain for the area you will be working in will tell you which grass is best to plant. And how the local climate affects which type of soil does best in your area. Also, when you know the the native plants, you can provide a habitat for a variety of wild creatures, including butterflies and songbirds. These species also attract other pollinating insects – which, in turn, help to keep your landscape healthy by fertilizing your clients plants. Learning things like that beforehand will ensure you provide your customer with the best job possible.
Don't Skimp on Equipment or Product
Once you've developed goals, a business statement and identified who you're selling to, it's time to start buying the tools you need to run your business. So how do you choose? First, consider your goals and the types of services you plan to provide. Target equipment that is going to help you get things done faster (so you can do more jobs), professionally (so you provide a quality product) and that requires minimal maintenance (so you can limit the amount of time and money you spend on repairs and/or new equipment). Don't skimp… equipment payments may hurt a bit but having to replace poor equipment, or losing time and money because the equipment doesn't do the job will hurt more!
Power in Your People
Having qualified staff is an endless topic. Some landscape contractors take on the work, but do not have the people to handle it. You have to have good, talented labor and an ample supply of it. Attracting and keeping labor, particularly good labor, is a problem throughout the industry. Take the time to interview everyone who applies. If you can find someone with experience hire them. A good strong workforce is essential in running a successful business. Pay them well and provide them an opportunity for advancement, they will do a better job and be motivated to see your business succeed. Never take your people for granted… they are YOUR company.
Marketing Your Landscaping Business
Good Marketing is a full time job. You will be running your company and will not be able to do all the marketing and advertising yourself. It is smart to consult with a marketing firm. The best landscapers spend most of their time with online marketing. Where is the first place you go when you need something?… The Internet, Social Media, and Friends you trust!  Make sure that your website states who you are and which specific services you provide. Make sure you are creating enough content monthly on your website to have Google rank you well. Make sure you are send you content to social media for people to see, share, and comment on. Show your work on your site and on social media and through email marketing. Before and afters with good reviews. Show people… don't tell them. That's how your online marketing will work for you.  And remember your employees are a good marketing tool, also. Good, friendly, hardworking employees will build up a positive reputation for your company.
Costs and Revenues
Managing your money effectively is the most basic and important factor to keeping your business alive. Controlling expenses is the first thing landscape contractors have to do. In calculating expenses, consider not only obvious items like labor, telephone, utilities, gasoline, etc., but also downtime, you own time, and equipment repairs & depreciation. You need to track your expenses because you can't make any money if you don't know what your expenses are or are going to be. Budget a year in advance. Barter your services with other businesses when you can and require deposits for jobs. The most successful landscaping businesses today have about 15-20% of their annual revenue in cash so they can manage day to day operations. The bottom line, is the bottom line.
If you are thinking of starting a landscaping company or already run a landscaping company, we'd love to talk with you. We can help each other grow our respective businesses together!
Request a Quote (859-635-5680) And We Will Contact You Shortly!
Calculate How Much Material You Need For Your Project
—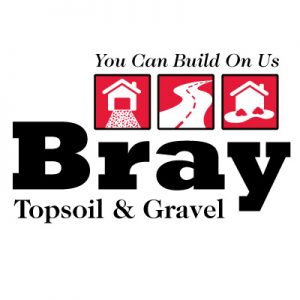 About Bray Topsoil & Gravel
Topsoil and gravel delivered to you by Bray Trucking, a specialized aggregate hauler servicing the Kentucky, Ohio, and Indiana region.