Start your landscaping project with this guide to pea gravel. If you are looking for a simple way to give your yard a facelift, landscaping with pea gravel is the perfect solution. These smooth, crushed-rock pebbles are incredibly versatile, easy to install, and require very little maintenance. According to statistics since the pandemic lockdown, 25% of homeowners started tackling outdoor projects because they were spending more time in their own backyards. They found they enjoyed entertaining friends and family at home. If you plan to give your landscaping a makeover, this blog may help show you how pea gravel can be an inexpensive yet decorative addition to your outdoor space project.
What Is Pea Gravel?
These small, fluid stones found near bodies of water have an appealingly smooth texture which is the result of natural weathering. Pea gravel ranges in size from 1/8 inch to 3/8 inch and is about the size of a pea. It is found in a range of natural colors like buff, rust brown, shades of gray, white, and can even be translucent. Because of its smaller, softer nature, pea gravel is often used for pathways and patios. Its uses are truly endless in your landscaping.
The Benefits of Pea Gravel
As compared to its larger gravel counterpart, pea gravel is easy to walk on. It has rounded edges that do not cause any discomfort even if you walk on it with bare feet.
You can be highly creative with pea gravel. Due to its small size, it can be mixed with other stones and gravel materials to add to the landscape. It is aesthetically pleasing.
Pea gravel is cheaper than a majority of other fillers, like concrete and other larger stones.
It prevents weed growth. When the gravel is laid at least 4 inches thick from the ground, unwanted weeds will not be able to grow out of the gravel.
It improves drainage and controls erosion.
It is a great rodent deterrent because it takes away the ability of rodents to dig through your garden. Additionally, using pea gravel around the base of your home helps keep the mice, chipmunk, and moles out.
Installation of Pea Gravel
Compared to other hardscaping materials, installing pea gravel is relatively easy. Generally, you work the soil about 6 inches deep, remove any weeds, lay down 2 inches of coarsely textured base rock (also called crushed rock), and cover that with a 3-inch-deep layer of pea gravel. You do need a border to keep it from flowing over into other parts of your yard.
Pea Gravel for a Patio
Using epoxy will help lock the gravel into place, which takes away the issue of unstable patio furniture. Mix the epoxy solution per the manufacturer's instructions and then add to your clear dry pea gravel in a bucket or wheelbarrow. Mix until coated and once completely coated, you're ready to install. Transfer to your prepped opening, fill out your form, and level the pea gravel. It will give you a classic, cottage-feeling patio filled with charm.
Lay a foundation
For a foundation, you need to dig out about five to six inches of soil. It is recommended that you first lay landscaping fabric then two to three inches of crushed rock or sand and then two to three inches of pea gravel.
Creating a Border for the Pea Gravel
Remember, the border should be about 1/2 inch higher than the gravel to help keep the small stones in place. If you need to tamp down the gravel, use a hand tamper. Less than 2 inches of gravel may allow the landscape fabric to become exposed over time, and more than 3 inches will make walking difficult. Your border material can be plastic or a more durable material of metal or a more natural look of stones or hedges. Have your border at least 1/2 inch higher than the ground.
Tamping is Essential
Tamp your gravel down to combat spreading. It will help keep the pea gravel in place. After you lay your pea gravel down, use a tamper or lawn roller to pack it down. This will make for a smoother surface and stop your landscape fabric from being exposed.
Adding Pavers
Adding pavers to your patio or pathway does more than just add a nice visual. You will be keeping your pea gravel from being disturbed. You can add two rows of pavers for a gravel driveway.
Is Pea Gravel Hard to Maintain?
While pea gravel is typically lower maintenance than other patio surfaces, it's not maintenance-free. Keep a leaf blower on hand to keep debris off the surface, and occasionally rake the stones level. While pea gravel does not decompose, you should plan to replenish its areas every four years. When it looks a little shabby just grab a rake. Rake over your gravel periodically to keep it looking great.
We hope these tips have given you some ideas that will help you love your landscaping. Pea gravel can take your boring backyard landscaping to the next level while providing you with some excellent benefits.
Request a Quote (859-635-5680) And We Will Contact You Shortly!
Calculate How Much Material You Need For Your Project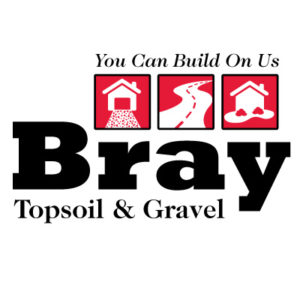 —
About Bray Topsoil & Gravel
Topsoil and gravel delivered to you by Bray Trucking, a specialized aggregate hauler servicing the Kentucky, Ohio, and Indiana region.
>>Learn More