Fill dirt is earthy material which is used to fill in a depression or hole in the ground to create mounds or otherwise artificially change the grade or elevation of real property. Fill dirt is usually subsoil (soil from beneath the top soil) and underlying soil parent material which has little soil organic matter or biological activity. Fill dirt should be as free of organic matter as possible since organic matter will decompose seating pockets of empty space within the fill which could result in settling. Uneven or excessive settling of the fill can result in damage to any structures built on the fill.
Uses For Fill Dirt
Highway maintenance to buildup the shoulders of highways.
Construction sites can fill in a low-lying area to raise the level of the building foundation in order to reduce the chances of flooding.
Landscaping projects which involve the creation of ridges and earth structures for pools, waterfalls, and other water features to break up a level area in order to provide more interesting textures to the landscape.
Because fill dirt is so valuable in these areas, it is in our best interest to learn as much about fill dirt as you can before undertaking a project that will use fill dirt.
Fill Dirt Prices
Cost depends,on your locale and distance to the nearest pit or quarry that carries your desired type of material. The only way to really ensure that you get the best prices is to go directly to a manufacturer. Because these companies take the time to harvest and clean fill on their own, you won't have to deal with any added costs from a "middle man." You'll enjoy wholesale prices and high-quality materials every time. Be careful where fill is coming from – you don't want someone pawning off a load of construction/demolition or land clearing debris or petroleum/chemicals contaminated waste on you. Fill dirt is one of the most affordable materials for construction and landscaping that is available on the market. You'll find that it is easy to assemble the volume of dirt that you need at a price you can afford.
Fill Dirt At-a-Glance
Fill dirt is quite versatile and is used for a number of different landscaping and construction projects. On top of everything else, it's extremely affordable and when you buy quality fill, you'll get a great return on your investment. Dirt isn't just dirt and not all kinds of dirt are created equal. Fill dirt comes from the ground beneath the first 6" of nutrient-rich topsoil. At this depth, the dirt won't contain any of the organic matter that is found in topsoil – perfect conditions for anyone looking for a material that won't shift, settle or tend to decompose over time. In other words, fill dirt can hold its own and will remain in place, long after it is situated where you like.
Choose Quality Fill Dirt
Quality fill dirt is an unscreened, natural earth material that may contain sand, rocks, and stones. It is derived beneath nutrient rich topsoil and contains little soil organic matter or biological activity. Fill dirt is mostly sourced from locations where soil is being removed for construction purposes, but it can also be mined from excavation sites. In order for you to get the most out of your fill dirt, you need to know what quality fill actually looks like. When comparing the products sold by a random online vendor vs. a local manufacturer and fill dirt supplier, you may find yourself wondering what the big difference is. This could be a big mistake, as buying from a non-licensed vendor means that there's no guarantee of the quality of the materials, where they originated or how they were produced. Don't forget to also provide a specification for your fill dirt to ensure proper particle size. Large chunks or clods of dirt, rocks, and other large particles could create air pockets that will cause some unwanted shifting and movement over time. Also, it is important that the fill dirt you purchase is dry and not. wet. If the material is wet, it could affect the aesthetics of the material and could be clumpy.
Fill Dirt Uses
Ignoring a hole in your lawn not only take away from the aesthetics, but could cause potential safety hazards for you and your family. In order to properly fill these depressions or lawn holes, be sure to have the correct landscaping supply. You'll need certain types of fill dirt to fully secure any dangerous holes. Talk to a professional if you want to learn more about the correct ground supplies for landscape work. If you want to build up your yard and create a hill, fill dirt will be used for that purpose. Conversely, if you are trying to level out an uneven surface, fill dirt is the perfect match for the job. Fill is also frequently used as a backfill material for underground pipes, cables, and other utilities. Fill may even be used as a sub-base or base material for the construction of roads and parking lots.
Fill Dirt Coverage
By inputting the length, width, and depth of your project's coverage area (in inches), you can instantly see how many cubic tons or cubic yards of fill you'll require for the job. If you have any questions about the depth demands of your project, one of our friendly experts will be happy to provide you with advice and input. Your local supplier will have a fill dirt calculator to tell you how much fill dirt you will need say for filling in the pool in your back yard that you no longer want.
Fill Dirt Bulk Delivery Services
It's generally in your best interest to try to find a local fill manufacturer and supplier that also offers bulk delivery services so you can be sure that you're getting the best deal and the highest degree of professionalism. Make sure the delivery is done by polite and courteous drivers and ask for references from satisfied customers. Never hesitate to ask a prospective bulk delivery service for evidence of current insurance policies, a valid business license to operate in your area, and information on its safety record. This will provide you with the peace of mind that your materials will be transported safely and legally and that you won't end up being drawn into a lawsuit.
Request a Quote (859-635-5680) And We Will Contact You Shortly!
Calculate How Much Material You Need For Your Project
—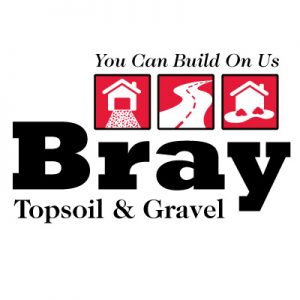 About Bray Topsoil & Gravel
Topsoil and gravel delivered to you by Bray Trucking, a specialized aggregate hauler servicing the Kentucky, Ohio, and Indiana region.
>>Learn More