Landscaping with pea gravel is the perfect solution. These smooth, crushed-rock pebbles are incredibly versatile, easy to install, and require very little maintenance. When it comes to landscaping, nothing adds structure and eye-catching appeal like good hardscaping. Maybe it's time to update your home's landscaping? If you are not sure where to begin, consider using pea gravel. Pea gravel has become a well-liked landscaping tool for homeowners. In this blog, we would like to give you some great uses and common mistakes for using pea gravel.
Great Ideas For Using Pea Gravel In Your Landscaping
The soft, smooth texture of the stones makes it great for footpaths and xeriscaping and makes a beautiful border for your garden or home. Plus, pea gravel can be a great idea if you want to add a patio to your outdoor space and do not want to deal with wood or cement. Be creative, pea gravel comes in a variety of natural colors, making it easy to pair with other types of stones. Using larger stones helps keep the gravel in place and adds to the ambiance of your garden, courtyards, or walkways. Whether you're imagining a formal, rustic, or modern garden, you can incorporate pea gravel to elevate your outdoor design. Maybe you would like to create a veggie garden this year. Raised beds are ideal when creating a large, edible garden. They allow you to create walkways between different sections so you can easily get to every plant for harvesting veggies without walking on and compacting the soil. Pea gravel is the perfect filler for these walkways since it provides good drainage and won't need to be replaced very often. It will also help keep weeds at bay.
Avoid These 3 Common Pea Gravel Mistakes
Never lay pea gravel without a fabric barrier: A landscape fabric barrier between the soil and the gravel will insulate the ground from the extreme temperature swings that may occur. A fabric barrier can also prevent some of the evaporation of soil moisture that can occur.
Never lay pea gravel without an edging material to keep the pea gravel in place: From a practical standpoint, landscape edging helps to keep pea gravel from creeping into surrounding garden areas. At the same time, it prevents the pea gravel in garden beds from spilling out into the lawn. If you skip the edging material, the pebbles will not stay in place, and you could have a big mess in your beautifully designed landscape.
Never lay pea gravel without reading the guidelines for the depth you need: Pea gravel is pretty simple to install in comparison to other hardscaping materials but the depth of the pea gravel is crucial to the success of your landscape. The landscaping feature will suffer if you do not use enough gravel. Pea gravel that is not deep enough can lead to weed growth, tripping hazards, and an unsightly garden. The right depth for most projects is about an inch or two.
What makes pea gravel so different then other types of gravel is that each stone is smooth and rounded (not chipped and jagged). Pea gravel is collected from nature in an area where flowing water once gently rounded each stone. The natural weathering process of the stream bed creates a smooth texture that is lovely to walk on. Think of pea gravel as a great landscaping product.
Request a Quote (859-635-5680) And We Will Contact You Shortly!
Calculate How Much Material You Need For Your Project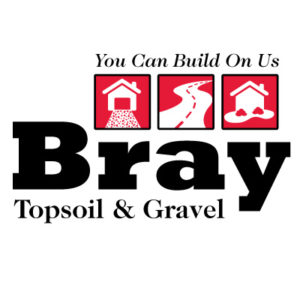 —
About Bray Topsoil & Gravel
Topsoil and gravel delivered to you by Bray Trucking, a specialized aggregate hauler servicing the Kentucky, Ohio, and Indiana region.
>>Learn More