Without incorporating landscape drainage solutions, flooding can be a huge issue for homeowners. More than the unsightly pools of water or muddy footprints into your house, drainage issues can cause some serious issues to the foundation of your home as it seeps into walls, causing cracks and mold issues. Standing water also harbors the reproduction of mosquitoes that can not only be annoying but carry disease. As well, poorly drained areas will ruin your landscaping. Grass, most trees, and shrubs that are over-saturated too often will suffer from root rot. You will have issues mowing, trimming, and simply enjoying your yard if it is a wet, sloppy mess.
A Drainage Plan Is Crucial
A drainage plan can reduce drainage issues. It could consist of a catch basin, piping, sump pump, French drain, gravel or head walls.
If you find any of the following in your yard, then there is a drainage issue that needs to be fixed immediately.
Cracks in your foundation
Marks of water on the basement walls
Soil run-off in the garden
Fungus in your attic
Clogged gutters
The Following Can Offer A Few Solutions To Landscape Drainage Problems
Is water accumulating at the foundation? – Water at the foundation can cause issues to your interior walls and can also weaken the foundation. The best solution would be to create another place for the water to flow. Install a sub-surface drainage system that includes a catch basin and pipe.
Is there stagnant water in plant beds? – When designing plant beds, be sure and have a way for the water to flow freely. Do not allow the water to sit in the bed and damage the roots of the plants. It must flow freely. The solution would be to have a professional ensure that the water is flowing in the desired direction.
Do You Have Low Spots in Your Yard? – Have you noticed low spots in your yard? These hold water during and after rainfall, and, over time, continuous water retention kills off grass and creates marshy conditions around your yard. The solution would be to build creeks in the yard to help move the storm water outside of the areas. A little digging and landscaping are all that it takes to create a creek in a specific spot in your yard. When it rains, the creek will start filling up and the water will flow and naturally exit the yard.
Does Your Yard Have Grading Problems? – If the lawn is not graded properly, the water does not flow properly and this still water creates a muddy zone.  The best solution for this problem is a French drain.  A French drain is a perforated pipe buried underground and the water is dispersed underground.  The water will just soak into the soil as it flows along the perforated pipe.
Do You Have a High Water Table? – There are tactics you can employ to work around it. The simplest and cheapest way of gardening when confronted with a high water table is to work with the phenomenon. The solution would be to choose the right plant for the right place — plant those specimens which like standing in water. Or build raised planter boxes for plants.
There Are Many Ways To Divert Excess Water In Your Lawn
A few additional solutions include: 
Grade the area to drain away extra water.
Allow roof gutters to drain off excess water.
Install lawn drainage systems.
Use stone covered driveways instead of concrete.
Plant a rain garden to absorb excess water.
Plant organic matter to help divert excess water.
Addressing the drainage issue saves the garden and landscaping from severe damage. Hiring a professional landscape drainage contractor to solve lawn drainage issues may save you money in the long run. Once property drainage has been reviewed and any issues are diagnosed, talented landscape design and architecture teams will carefully engineer a landscape drainage system customized for your home. Excess water in your yard, garden or hardscaped areas can cause headaches no one wants to have.
We Provide The Soil and Gravel You Need to Divert the Water To the Right Places
Soil – Bray has been providing the Greater Cincinnati area with quality natural topsoil for over 25+ years! Our topsoil is collected locally and then prepared and stored at our plant in Alexandria, Kentucky. Topsoil is an essential start material for any yard or raised garden bed. It's the layer of soil that holds all the nutrients that feed your lawn and plants. Topsoil is also the layer of ground where your grass and plants extend their roots, so having good topsoil allows your lawn and plants to grow strong.
> Learn More
Gravel – Bray has been providing the Greater Cincinnati area with quality gravel for over 70+ years! We pride ourselves on service and have the capacity to deliver the type of gravel you need for residential and commercial projects.
> Learn More
Request a Quote (859-635-5680) And We Will Contact You Shortly!
Calculate How Much Material You Need For Your Project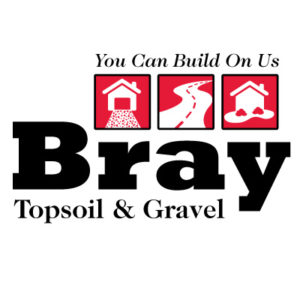 About Bray Topsoil & Gravel
Topsoil and gravel delivered to you by Bray Trucking, a specialized aggregate hauler servicing the Kentucky, Ohio, and Indiana region.
>>Learn More