There are a number of reasons to choose gravel for your garden: the satisfying crunch it makes underfoot, its relatively low cost compared with other hardscaping materials, the environmental benefit of preventing runoff and erosion, and the fact that it looks good with almost any landscape style. From lining pathways to mulching gardens, rock is beautiful in all shapes and sizes. There are so many choices. Do you want small pea gravel, washed gravel, or crushed rock for your pathway? And in addition to the type and size of the stones, you need to decide upon the color of the stones. To choose a stone color you will love for years, try using the following guide.
Does Pea Gravel Come In Different Colors?
Besides the stones' small size and smooth edges, pea gravel also comes in a variety of colors. Through these colors, you can easily add style and finesse to your property. It will be ideal to find the perfect color to complement your area! When designing a landscape, you want to show off other elements of your garden like flowers, trees or yard furniture. When you choose a color, you want to keep those features in mind. If you have black patio furniture you may want to consider a light stone to contrast the dark. Or if you have other rock features such as walls, pavers or fountains, you may want to pick a similar color to unify your landscape.
Use Your Imagination And Use Multicolor Or Contrast Pea Gravel
If your flowers are pale in color such as white or light pink, use black or deep brown pea gravel to offset the blooms. Pea gravel can be ordered in multicolor. So, if you want to dress up your gravel pathway using the multi color stones it may be visually interesting to use mixed tones and colors.
If You Are Going For A Contemporary Look, Use Monochrome For Drama
Produce visual images in a single color or in varying tones of a single color such as black or white, as you may prefer that bold, stark appearance. Use deep black or white stones to create clear borders around flower beds and walkways. Design an interesting pathway shape and outline the border with one stark color.
Manage The Temperature With Rock Color
Remember what your mother used to tell you about dressing for the heat. Dark colors absorb more heat than light colors. So, for rock landscaping that will be used in direct sun, choose those light shades. Consider the amount of sun and shade in your outdoor landscape and choose colors to help manage temperatures.
When properly installed, pea gravel doesn't decompose and is low maintenance. To keep its surface evened out, you'll need to rake the stones back into place occasionally, but the only real challenge is snow removal. Pea gravel also suppresses weed growth and will last many years. Even a gravel driveway can last up to 10 years.
Request a Quote (859-635-5680) And We Will Contact You Shortly!
Calculate How Much Material You Need For Your Project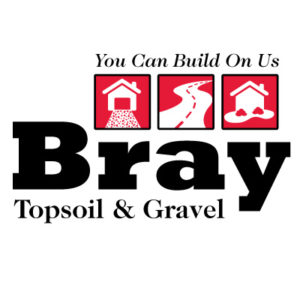 About Bray Topsoil & Gravel
Topsoil and gravel delivered to you by Bray Trucking, a specialized aggregate hauler servicing the Kentucky, Ohio, and Indiana region.
>>Learn More