Landscaping with river rocks is a great option if you're looking for a way to make your plot feel more naturalistic. And, as there are so many ways to incorporate them, they can be used in all kinds of spaces – from small urban courtyards to large country gardens. Usually when we think of landscaping our minds go to flowerbeds and plants. But rocks and stone can add just as much ambiance to your property. Riverstone is a perfect option for taking your landscaping project to the next level. River rocks are essentially rocks, gravel, or boulders that have been gathered from riverbeds or other places where water has given them smooth and rounded edges. This can include small pea gravel, larger stones ranging in size from lima beans to avocados, and larger rocks and boulders. These stones can be used to create walkways, accent an in ground pool, transform areas where grass struggles to grow, or even craft the perfect rock garden.
What Size River Rock Is Best For Landscaping?
Since smooth rocks are often used to mulch flowerbeds and line garden pathways, larger, heavier gravel is less likely to scatter. If you're creating a pathway or other more decorative garden element, medium-sized river rocks might be the perfect choice! Larger rocks create beautiful centerpieces for different landscapes and are also commonly used in retaining walls. Using river rock to replace a portion of the grass helps you cut down on how much water you use during the height of the summer. Since you don't have to mow river rocks, you can simply enjoy the beauty of your landscape without having to invest hours of time in keeping it up. River rock provides the same level of drainage as clear stone gravel but offers much more visual appeal.
How Do You Prepare To Landscape Using River Rock?
Rock landscaping can be a beautiful addition to any yard, but it's important to prepare the ground properly before you start. If you don't do it right, your rocks may not stay in place and your landscaping will look sloppy. River rock landscaping can be a truly creative endeavor if you follow the steps below.
Step 1: Remove Debris. The first step in preparing the ground for rock landscaping is to remove any debris from the area.
Step 2: Remove Weeds and/or Grass.
Step 3: Grade the Area.
Step 4: Add a Lining/Underlayment. Selecting an option that is grey in color that blends with the stone is a good choice.
Step 5: Add Soil.
Step 6: Install Your Rocks. Adding at least a 3-inch layer of stone across the entire area is recommended.
The options you have for creating the perfect landscaping plan often seem limitless. On top of the usual grass and plants, you'll also run into a variety of decorative rocks you can use to add interest to your landscaping.
Request a Quote (859-635-5680) And We Will Contact You Shortly!
Calculate How Much Material You Need For Your Project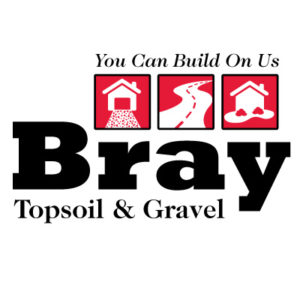 —
About Bray Topsoil & Gravel
Topsoil and gravel delivered to you by Bray Trucking, a specialized aggregate hauler servicing the Kentucky, Ohio, and Indiana region.
>>Learn More