Fill dirt is necessary if you are about to begin a major construction project, or if you want to expand or enhance your yard or garden, and you have low areas on your property that need to be build up. The most commonly used landscaping and construction material is fill dirt, because it's both functional and economical. It's always important to be aware of the cost of materials necessary for your project prior to beginning any job, and before you can set your budget. Here are some frequently asked questions to keep in mind when researching the costs of fill dirt. Every project will be different, so there's really no set answer to how much fill dirt will cost you.
How Much Fill Dirt Will I Need?
You need enough fill dirt to complete your project, but how much is that? And how do you determine that amount? Most of us don't remember much from our high school math classes, but with modern calculators that are available online, it can easily be determined how much to purchase. You'll need to measure the width, depth and length of the area you are going to fill in. The depth depends on your precise project specifications and the look you are creating. Once you have the calculator, you only need to enter the numbers that you have already measured! It's that simple the calculator does the job for you, and tells you the required amount of fill dirt in both cubic tons and cubic yards. But remember, although the calculator is accurate, it's still only an estimate, so always talk with your supplier about your project before committing to purchase. If you have an odd shaped area (not simply rectangular or square), it's always smarter to consult with your supplier to precisely measure the amount of fill dirt you need.
How Much Will Delivery Cost?
When you are planning your budget for fill dirt, don't forget to add delivery costs. Most contractors, property owners or landscapers require a large volume of fill dirt to finish your project but do not own the necessary equipment to transport the fill dirt to your project site. Be sure you are not overpaying for your delivery transport delivery service. You'll need to research different options and get several estimates to be sure you're not overpaying. A fill dirt delivery company should have a proper business license and insurance, a safe driving record and experience, as well as good customer service and reasonably delivery schedule. You need to be suspicious if you get quotes that are either too high or too low, you may not be getting the service you need.
Where Should You Buy Fill Dirt?
Once you decide your project needs fill dirt you need to determine where to purchase it. Look for a reputable company, preferable one that has been in business for a number of years and offers high quality materials with great prices. Below are some things to consider when choosing the company…
Excellent Material – You need a company that offers fill dirt that is free from organic materials. Not all fill dirt is alike, you need to be sure what you are purchasing will not break down and cause settling. Check the company guarantee to be assured your fill dirt will work correctly for your project.
Professional Supplier – Look for a supplier who can help you select the correct type of dirt for your project. If you explain your project to them, they can actually help you decide if you really need fill dirt or if topsoil would be better for your situation. Since there's a big difference between fill dirt and top soil, you need to be sure you are not wasting your money on the wrong type of soil.
Product Service – A reliable company will offer good customer service to be sure you are satisfied with your purchase. They will offer advice for your specific job, help you determine the amount of material you need, and even help you set up delivery service.
Sufficient Supply – Check for a company that keeps plenty of screened and unscreened fill dirt in its inventory. Nothing's worse than spending your time researching for the perfect company just to find out they don't have the necessary amount of dirt you need. This would simply delay your project and cause you to begin researching again!
Delivery Choices – Most jobs require fill dirt delivery but many fill dirt companies don't offer transportation of their materials. Check to see if the company you are buying from offers delivery service, look for a company with reliable drivers and a reliable schedule to get your delivery on time.
Competitive Pricing – All jobs have a budget and need to stretch their money. Be sure you hire a company that offers competitive prices or wholesale prices to get the best value for your money.
Request a Quote (859-635-5680) And We Will Contact You Shortly!
Calculate How Much Material You Need For Your Project
—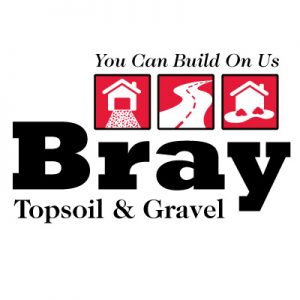 About Bray Topsoil & Gravel
Topsoil and gravel delivered to you by Bray Trucking, a specialized aggregate hauler servicing the Kentucky, Ohio, and Indiana region.