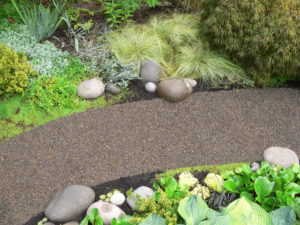 Aggregate is a term that is used to describe a broad category of particulates used in construction and landscaping. Aggregate can be made up of crushed stone, gravel, sand, recycled concrete, slag, and other mined materials. If you are looking for nice appearance, low maintenance and calming environment think aggregate. Most homeowners view their yard as an investment and studies show that landscaping that is as little as 5% of a homes's value can return as much as 150% when the home is sold. For many years mulch, bark and wood chips have been used. A new concept is aggregate ground cover such as decorative rocks, pea gravel and seas shells for landscaping. Here are a few reason to consider using aggregate for your landscaping…
Weeds and Pests
Unwanted yard guest, such as weeds and pest will have a difficult time finding food in a bed of gravel or crushed shell ground covering. When weeds do pop up they will be easily seen so you can pull them. Mulch provides food for your plants, but also provides food for weeds and it creates a rich ecosystem for insects, slugs, snails and other pests.
Good Drainage
Aggregates will allow surface water to drain into the soil while mulch captures water and becomes saturated. Water can travel between the rocks, pea gravel, and crushed shells. As long as the base below the soil has good drainage then the water will pass through to the soil. This will help to keep your yard from becoming muddy.
Improves Stability
Aggregate is particularly good at preventing soil erosion. Organics like bark and mulch can be washed away by a rainstorm or blown away by a strong wind. Aggregate provides a clean look to your garden. It allows you to control where plants are planted and where the ground cover is laid, since aggregate is heavy enough to stay stable.
Does Not Decompose
You won't have to replace rock and stone like you do mulch and no nutrients will need to be provided. If you choose sea shells for your landscaping, they will break down slowly since they are made up of calcium carbonate, contributing a nice amount of calcium to your soil as they break down. Shells take longer to break down than organic materials like mulch but sooner than rock or stone.
Eco-friendly
We recognize that many folks are keen to maintain a healthy respect for the environment, while not compromising on the appearance of their garden or outdoor space. For this reason, aggregates are a good choice for your garden. Aggregate ground cover does not require water, fertilizer, or pesticides. Unlike organic material, aggregate does not need to be replaced or supplemented every year. That makes the aggregate easier on your wallet and the environment. .
When you use aggregates in your landscape, you are adding functionality along with the natural beauty of stone. Crushed stone and gravel can add a unique look to your property while serving all of the functional purposes mentioned above. You can purchase stone and gravel in a variety of different colors, shapes, and sizes which means complimenting the color of your home is not difficult.
Bray Topsoil & Gravel can deliver our gravel and topsoil to you in the Greater Cincinnati Area!
Request a Quote (859-635-5680) And We Will Contact You Shortly!
Calculate How Much Material You Need For Your Project
—
About Bray Topsoil & Gravel
Topsoil and gravel delivered to you by Bray Trucking, a specialized aggregate hauler servicing the Kentucky, Ohio, and Indiana region.