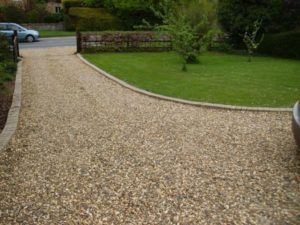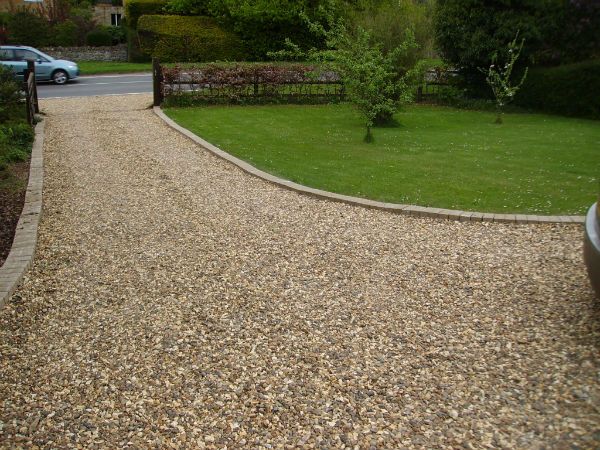 Gravel is typically graded by size, and most driveways use 3 different types of gravel that are put down in layers to create a solid foundation and ensure proper drainage. Gravel driveways are relatively inexpensive and easy to install as a DIY project. Your decision if you choose to install a gravel driveway would probably be based on availability, cost, appearance, and drainage. The popular gravel choices are river rock, dense grade, and pea gravel. In this article we would like to discuss those three gravel choices…

River Rock
The term "river rock" refers to a diverse group of rocks that have been worn and rounded by the action of moving water. River rocks come in a range of sizes, colors and textures. River rocks are smoothed by exposure to moving water. River rock gives a natural look. If you driveway contains steep slopes, inclines, and curves then take extreme caution in choosing river rock for its attractiveness because the smoothed stones shift significantly under vehicles.The prices of river rock vary greatly depending on the area, season, and availability, so call around to get the best price.

Dense Grade
Dense Grade, sometimes called quarry stone is a dense grade aggregate, crusher run, and road stone. It is a combination of small, 3/4-inch-or-less crushed stone and stone dust. Most often it is made out of crushed limestone, granite-gneiss, trap rock or a combination of the aforementioned. It is designed to bind together and form a strong, solid surface when compacted. Dense Grade stone is practical but not pretty. The stones are smaller and mixed with a great deal of gravel dust which allows the gravel to compact and form a semisolid surface. Due to these properties of the crushed gravel, it does not serve as a good drainage gravel for driveways in wet climates. The price of dense grade depends on the market, availability, and the proximity of a quarry.

Pea Gravel
Pea gravel is typically 3/8". It is often soft to the touch due to its rounded and smooth sides. Pea gravel stones are also naturally weathered. Plus, pea gravel comes in a variety of different colors, including neutral colors like brown and gray, as well as more eye-catching colors like red and blue. Pea gravel is usually multicolored in appearance and has the same attractive, natural look as river rock. However pea gravel does not have the vehicle instability that river rock has. But since the pea graves stones are round, they do not interlock like the crushed stone tends to do. Pea gravel tends to be a better drain rock option than quarry since it allows water to flow through between the round rocks.
Choosing the right gravel is important, but proper site preparation is even more vital. Before you lay any gravel, you must remove the top soil and use it somewhere else on your property. The topsoil contains lots of organic matter, which is great for growing plants, but creates a spongy, unstable subsurface for a driveway. Hardpan, the layer beneath topsoil, is, as the name implies, dense and hard. It creates a much better foundation for your driveway.
Bray Topsoil & Gravel can deliver our gravel and topsoil to you in the Greater Cincinnati Area!
Request a Quote (859-635-5680) And We Will Contact You Shortly!
Calculate How Much Material You Need For Your Project
—
About Bray Topsoil & Gravel
Topsoil and gravel delivered to you by Bray Trucking, a specialized aggregate hauler servicing the Kentucky, Ohio, and Indiana region.