When it comes to caring for your outdoor space, it's important that you have the right tools on hand to get the job done. Perhaps the most essential tool at your disposal is topsoil. Topsoil can be used in a variety of ways to improve the overall health and quality of your garden and lawn. Topsoil is an extremely beneficial product to your landscaping. Whether you're a rookie gardener or a landscaping connoisseur, there's never a bad time to learn about topsoil uses and how topsoil can play a role in your outdoor space.
Topsoil Uses Can Include Fixing Uneven A

nd Patchy Lawns
Areas of a lawn can become uneven over time, due to settling, drainage issues, and various natural and unnatural causes. In the least extreme cases, you can solve the problem by topdressing with a thin layer of leveling mix (soil, compost, and sand). This is a good solution for widespread unevenness that does not run too deep. More extensive variation in level may require multiple applications of topdressing or, in more extreme cases, filling in deep depressions with soil and reseeding over the filled areas.
How Do I Add Topsoil After Aerating My Lawn?
Spread the soil using something flat, like the backside of a heavy garden rake, working it into aeration holes and covering low spots. Make sure the top-dressing is no more than 1" deep (preferably ½" or less) over the existing grass. Keep working the mixture until your grass peeks through and the depth is even. Aerating before adding topsoil will allow the topsoil to better do its work of providing a healthy lawn.
How To Identify Good Topsoil?
Good topsoil should crumble in your fingers. You should feel the grit in it which indicates minerals that are needed for your plants like phosphorus, magnesium, and calcium. Avoid soil that is too hard, as it indicates low organic matter. Soil that clumps up into balls or large chunks is too rich in clay. Choose one that comes from a reputable source. Make sure it is screened to ensure that no rocks, roots, or other debris are present.
Topsoil Can Refresh The Appearance Of Your Lawn And Garden
While mowing the lawn, weeding the garden, and planting new flowers are all great ways to clean up your backyard, adding new topsoil to a space can instantly refresh the look of your garden and backyard. Nutrients and organic matter give topsoil its rich dark color, but a long winter and unfavorable weather can strip the soil of these resulting in a dull, worn look. Add a fresh layer of topsoil to any garden to instantly enhance the overall appearance.
Whether you're looking to enhance the health of your plants, repair your yard, or upgrade the appearance of your space, consider using topsoil.
Request a Quote (859-635-5680) And We Will Contact You Shortly!
Calculate How Much Material You Need For Your Project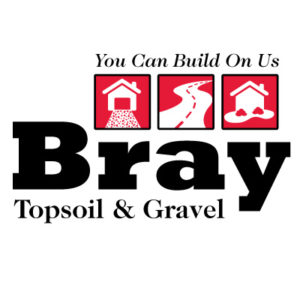 About Bray Topsoil & Gravel
Topsoil and gravel delivered to you by Bray Trucking, a specialized aggregate hauler servicing the Kentucky, Ohio, and Indiana region.
>>Learn More