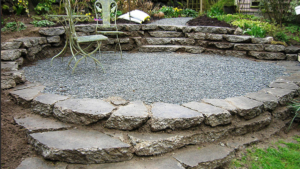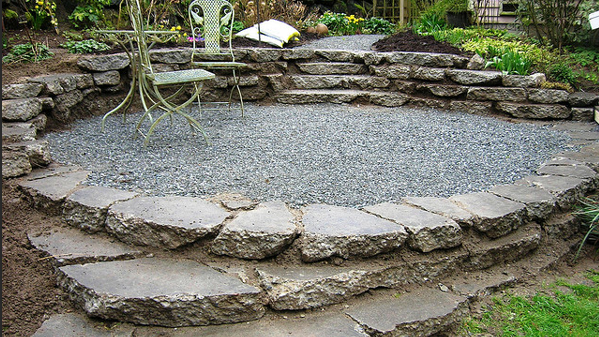 Construction and demolition projects can create large quantities of waste building materials, which often end up in the landfill. Much of this material can be repurposed or recycled for projects around the home and garden. Recycled concrete is one such material. Crushed concrete or recycled concrete is the same thing. Uses for crushed concrete in the yard are numerous. It is a great affordable option for a wide range of projects. It is an environmentally friendly material that you can find at your landscape supply store.
Crushed Concrete For The Garden
Expert gardeners know that raising beds a few inches above the surrounding soil provides benefits like improved drainage and warmer soil during germination. Building your beds even higher, think a couple of feet, makes them much easier to work in, and more comfortable for your back. Broken pieces of recycled concrete can be stacked in a designated area to give you the height desired. another use is for paths and walkways around your garden made of crushed concrete. It will give some visual interest and serves as a great border and barrier.
Crushed Concrete For Landscaping
Patios / Paths – Anywhere you can use stone or gravel for paths and patios… you can also use crushed concrete.
To Improve Drainage – Crushed concrete is great if you have to lay pipe to improve drainage, or if you want to create a small retaining wall. Dig a trench through the area of your yard where water most often pools, and fill it with broken-up concrete surrounding a perforated PVC drainage pipe. Cover the pipe with more concrete and replace the soil. Be sure to check local drainage regulations before undertaking such a project.
Retaining Walls / Terraced Gardens – Crushed concrete is great for retaining walls and terraced gardens. In each area, you wish to build a section of wall, dig and level space as wide and deep as you wish to plant. For extra stability, put down a layer of gravel or broken-up concrete at the base. Stack your layers of recycled concrete, with dirt between the layers to fill in the uneven spots. When you're done, shovel soil into the retaining area for planting.
Crushed Concrete Is Good For The Environment
Not only does concrete recycling help reduce new construction costs, it has a significant impact on the environment by keeping it out of landfills. Using recycled concrete can conserve natural resources by reducing the need for gravel mining, water, coal, oil, and gas. It is a material that you do not have to worry about leaching chemicals into your landscaping or garden. Crushed concrete it also affordable.
Where To Buy Crushed Concrete?
Crushed concrete can be purchased from aggregate suppliers like Bray topsoil and gravel. Suppliers with your best interest in mind can help you decide and will guide you in purchasing the type of crushed concrete that would best suit your projects. To ensure your project gets done the right way the first time, rely on a reputable supplier.
Bray Topsoil & Gravel can deliver our gravel and topsoil to you in the Greater Cincinnati Area!
Request a Quote (859-635-5680) And We Will Contact You Shortly!
Calculate How Much Material You Need For Your Project
—
About Bray Topsoil & Gravel
Topsoil and gravel delivered to you by Bray Trucking, a specialized aggregate hauler servicing the Kentucky, Ohio, and Indiana region.
>>Learn More