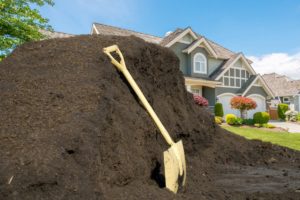 You might be quick to think that fill dirt lacks importance and serves very little purpose. However, fill dirt is very beneficial when you complete landscape and construction projects. If time for you to take on a new venture or you're working on conquering some tasks on your property, this guide will help you understand just how valuable fill dirt is and how you can put it to use.
Where Does Fill Dirt Come From?
A seasoned gardener will be the first to let you know how useful dirt is— fill dirt, too. Fill dirt is produced six inches below the thin layer of top soil. Top soil contains nutrients needed for vegetation to sustain life. Fill dirt lacks organic materials aside from small rocks, clay, and sand. While the organic material in the top soil is likely to experience moving, eroding, and decomposing, that found in fill dirt creates stability to keep the things above it from shifting.
The Importance of Quality Fill Dirt
One of the biggest things to consider when looking for quality fill dirt is the source. Finding a reputable vendor that is licensed and who properly sources the dirt. Be sure to purchase dry fill dirt. Wet dirt could potentially ruin your project as it diminishes stability of what you place on top if it. You should also consider the particle size. If there are excessive or large rocks or fragments that leave room for air pockets, you may experience shirt over time.
The Purpose of Fill Dirt
Fill dirt is probably the most useful for construction companies. They are able to use the dirt as a backfill material which is a great base for the foundation of new structures, underground cables and pipes. Fill also serves as the base for roadways and for parking lots. Homeowners are able to use fill dirt to level out their property. It can also be beneficial for landscaping projects, particularly for creating raised flower beds, gardeners, or hills. Fill dirt is commonly used to surround septic systems. This creates stability to keep the tank safe and supported.
Key Benefits of Fill Dirt
When comparing to other landscape and construction materials, you'll find that fill dirt comes in at a fraction of the cost. The money you'll save is perhaps the best benefit. Getting more for your money allows you to conquer any task while staying within your budget.
Bray Topsoil & Gravel can deliver our gravel and topsoil to you in the Greater Cincinnati Area!
Request a Quote (859-635-5680) And We Will Contact You Shortly!
Calculate How Much Material You Need For Your Project
—
About Bray Topsoil & Gravel
Topsoil and gravel delivered to you by Bray Trucking, a specialized aggregate hauler servicing the Kentucky, Ohio, and Indiana region.
>>Learn More